Refrigerant Hoses for Air Conditioning and Refrigeration Service
HI-PERFORMANCE PolarShield® CHARGING HOSES
Includes 950, 900, 850 & 800 SERIES for your Refrigeration Gauges & Manifolds
• All Imperial® PolarShield® charging hoses are UL recognized and meet UL-1963, SAE-J2196 & EPA requirements for strength, pressure and refrigerant permeation.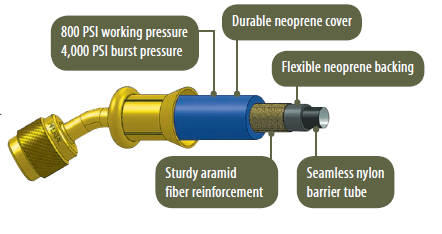 • Rugged, Multi-Refrigerant Nylon Barrier Construction - PolarShield hoses are compatible with all CFC, HFC & HCFC refrigerants (R-410A, R-404A, R-407C, R-134a).
• High-Pressure - PolarShield hoses feature 800 PSI working pressure and 4,000 PSI burst pressure with a 5-to-1 safety factor.
Selection - PolarShield hoses are available with a variety of end connections, in yellow, red & blue sets of three. Individual Yellow hoses in 3/8" are available. These 3\8" hoses are suitable for faster system evacuation and charging. Hoses supplied in several lengths with 3/8" SAE swivel ends & eight-crimp ferrules.
Contact us for lengths and end connections not listed below. For Automotive R-134a hoses - click link..