700 Series 3-Valve KWIK-CHARGE Manifolds
3-Valve KWIK-CHARGE Blue Anodised Manifolds

700 SERIES KWIK-CHARGER™ MANIFOLD
Charging the system is faster and easier than ever using Imperial® manifolds with built-in liquid low side charger.
• Dual Action Valve - Operates as a conventional manifold, or engage the special control valve and the manifold accepts liquid refrigerant from cylinder and discharges into the low side of the system. Charging rate is up to eight times faster than
vapor charging.
• Safe - Internal metering element reduces liquid flow to a level below capacity of the compressor. Assures a safe, fast charge without endangering the compressor.
• All-In-One - No connecting or disconnecting special adapters for charging new blended refrigerants.
• No Pressure Drop-In Cylinder - No need to heat refrigerant cylinder.
• Works With All Refrigerants - CFC, HFC, HCFC, Zeotropic and Azeotropic.
• Filters In All Manifold Port Fittings - To keep out particulate material that may be present during recovery or reclaim or in recovered refrigerant. Filters are easily serviceable.
• Deep Vacuum Valve Design - Proven diaphragm-type, soft-seat valves require only fingertip pressure to close completely. One turn to full open/close. Superior for deep vacuum service.
• Precision Gauges & Protective Boots - Unique gauges provide superior resistance to shock, vibration & pulsation for accurate performance and extended gauge life.
• PolarShield® Hi-Performance Hoses - 800 PSI working pressure, 4,000 PSI burst pressure (not all models include hose).
• Ergonomic Handles - Durable, soft-touch non-slip surface, even with oily fingers.
• Swivel Hanger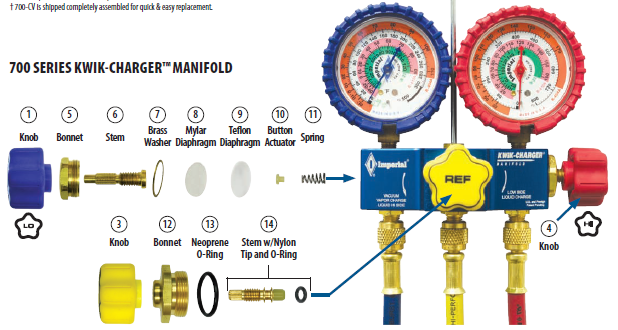 (700-Series-Manifolds)
Be The First To Review This Product!
Help other Imperial Tools Australasia visitors by writing reviews for products you have used or purchased.
---
More From This Category